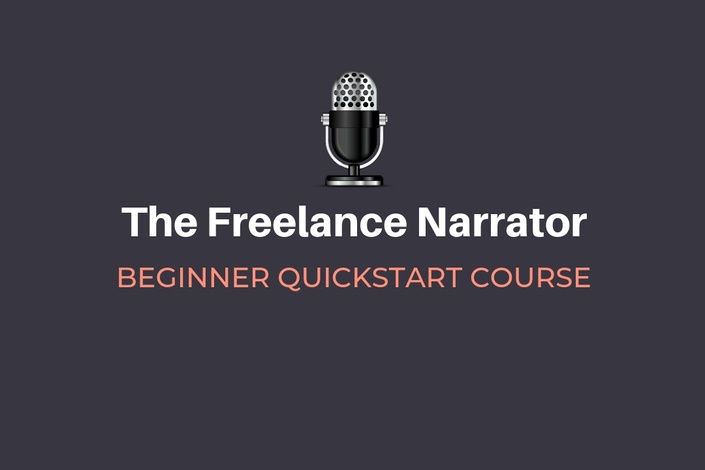 The Freelance Narrator
How to start working as a freelance narrator on ACX
This course is currently full and not open for enrollment. Please check back later for updates.
Have you been looking for a fun, flexible way to earn extra income from home doing something that you actually enjoy?
If so, freelance audiobook narration could be the creative outlet you've been looking for.
If you're a book lover with a knack for storytelling, an actor or performer, or a curious beginner with a "can do" attitude interested in breaking into this rapidly growing industry, then this course is for you!
In this self-paced online class you'll learn the in's and out's of recording audiobooks from home through a site called ACX.
ACX is an Amazon-owned website that helps match authors and publishers with freelance narrators (like you) through their open-audition platform. Audiobooks that are created through ACX are sold on Audible, Amazon, and iTunes.
Course Goals
1) Help you discover if freelance audiobook narration is a good fit for you,
2) Give you essential/foundational knowledge to get setup quickly, and
3) Learn basic recording and editing skills that you can use for practice and skill building purposes (audio sample exercise included.)
What you'll learn:
Module 1: Getting setup on ACX (profile, payments, etc.)
Module 2: Audiobook recording equipment.
Module 3: Using Audacity (free recording software.)
Module 4: How to set up your microphone and test your recording levels.
Module 5: Setting up a recording space in your home.
Module 6: How to record and edit an audio sample to add to your ACX profile.
Module 7: How to audition for paid projects on ACX.
Module 8: Overview of the audiobook production process and technical requirements.
It is highly recommended that you complete the lessons in sequential order.

As you can see, we are going to cover a lot in this course and I'm very excited to share this information with you. This foundational knowledge is essential for beginners who are looking to break into freelance audiobook narration.
This course is not currently open for enrolled.